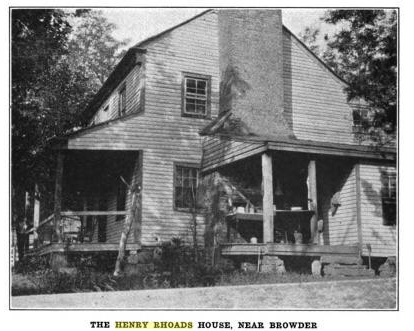 Henry Rhoads was born in Bedford, Pennsylvania on 5 Jun 1739. By trade, he was a blacksmith. He was active in the Brethren religion (German Baptist). In 1760 he married Elizabeth Stoner in Maryland. He was a Captain in the Revolutionary War; he fought for his country under the leadership of General John Peter Muhlenberg, in Brother's Valley, Pennsylvania.

He was delegated to the Pennsylvania Constitutional Convention from Bedford County on July 15, 1776, eleven days after the signing of the Declaration of Independence. It is noted that Benjamin Franklin was also delegated at this same time.

He was commissioned a Justice of the Peace in Bedford County, Pennsylvania in 1776 and was a member of the Pennsylvania Legislature for Bedford County, 1778.

After the war for liberty, having lost heavily in the cause, he, with his two brothers and their families, came to Kentucky, and stopped first at Bardstown; leaving their families there they set out in the wilderness to select a site to build a town. The place selected was at the falls of the Green River, where they started a town and named it Rhoadsville; after three years peaceable possession, an action was entered in the Ohio circuit court, styled "John Hanley vs. Henry Rhoads and others," for the possession of the land on which the town stood. The suit was gained by the plaintiff. Henry Rhoads, with a few friends, then went to Barnett's Station, on Rough Creek, where he lived five years, in which time the present town of Hartford was laid out and a few houses built.

He then moved to Logan County, and settled; after a residence of five years he moved five miles west, where he owned 7,000 acres of military land, he represented the Logan County in the legislature of Kentucky. In 1798, he was given the honor to name the new county where he had settled. He named it after his general, John Peter Muhlenberg and was the first man to represent the new county in the House of Representatives.

Bud Newman writes, "When Henry Rhoads settled on his tract of land, Muhlenberg was practically an unbroken wilderness. When he was building his log house his neighbors were few and far between, but all came with a helping hand and a happy heart to take part in his "house-raising." These old-time house-raisings were attended as much for the sake of their social features as for the purpose of building a house. One afternoon, while the crowd was busily engaged on the roof of this building, a large bear leisurely wandered into sight. When the men saw the animal they stopped work and immediately started on a bear chase. Some ran after him with axes and others with guns. The women of the wilderness always lent a helping hand. In this instance one woman folled in the bear chase with a pitchfork. After an exciting time old Bruin was finally killed. That night a large bearskin was stretched on the new log wall and barbequed bearmeat was served in abundance at all the other meals prepared for the house-raising party.

But the noise made by the bear-chasers evidently did not scare all the wild animals out of the neighborhood. About a year after that event Henry Rhoads, while walking in his wood, which is still standing a short distance north of the old house, espied a large drove of wild turkeys. He slowly raised his flint-lock rifle for the purpose of shooting a fine gobbler strutting under a white oak within close range. When he was about ready to pull the trigger he heard a rustling in the dry leaves behind him. Rhoads looked around, and to his great surprise saw a huge panther preparing to spring upon him. Without stopping to take sure aim he fired at the threatening beast. Luckily, the bullet hit the animal between the eyes and killed it instantly. A half-hour later Rhoads walked back home with the panther skin on his arm and his trusty flint-lock on his shoulder."

He helped draw the plans for the first courthouse and also did much toward promoting the interests of Greenville, the new county seat. He was bondsman and adviser to a number of the younger men whom he successfully recommended for office. Tradition says that many, and probably all, of the German-American pioneers in Muhlenberg came to the county through his direct or indirect influence.

He also reared a large family; one daughter, Elizabeth, married Jacob Vanmeter, from which union has sprung many of the leading and influential families of western Kentucky.

During his last years Henry Rhoads spent much of his time looking after his farm, tanyard, and other personal affairs, but nevertheless lost no opportunity to bring in new settlers and perform such acts as he thought would advance Muhlenberg County and its people. Henry Rhoads died 6 Mar 1814. He was buried in the Rhoads Cemetery.


From Henry's Rhoads Personal Bible

Henry Rhoads, Jr., was born the 5 day of June 1739.
Elizabethea Stoner was born the 25 of March 1744.
And joined in wedlock 19 of October 1760.
The 3 of March the first son was born 1762. Deceased the 5 of August 1779.
"Was Born"
Jacob, June 6, 1763
Susanna, April 1, 1765
Daniel, Jul 11, 1766
Caterina, June 19, 1768
Elizabethea, Oct. 12, 1770
Henry, March 26, 1772
Sollomon, June 7, 1774
David, Nov. 19 1776
Hanna, March 23, 1780

April 19, 1795. This day wen this retin. We was mared 34 years, 6 month by me Henry Rhoads and my Elizabetha beloved companion on the bans of Green River in Logan County Kantocki.

3 sons mared and 3 - three darthers and 2, 20 gran childrin

My wife deceased, October 2, 1807.
Married again 9 of February 1808.
(signed) Henry Rhoads

Will

In the name of God, Amen. I, Henry Rhoads, of the county of Muhlenberg and State of Kentucky, being weak in body but of perfect mind and memory, do make and ordain this my last will and testament.

First, I recommend my soul to the Almighty God, and as touching my worldly effects wherewith He has helped me, I give and dispose of them in the following manner.

First, I give and bequeath to my beloved wife Barbay Rhoads all the property she brought with her after we were married, agreeable to contract, and one cow, a large heifer and one iron pot and the corner cupboard and chest and my large Bible, and the low posted bedstead, one large and one small wheel including all the furniture we have got since we were married. I also give and bequeath to my beloved wife Barbay all that is allowed to her agreeable to the courts of a bond on my son David Rhoads bearing date August 23, 1810.

Secondly, I give and bequeath all my debts, dues and demands and all the property I own in this world except what is expressly mentioned in this my last will to my children, namely my sons, Jacob Rhoads, Daniel Rhoads, Henry Rhoads, Solomon Rhoads, David Rhoads, Susanah Nighmyoir and Caty Jackson, Elizabeth VanMeter and Hannah Jackson, all my daughters to be equally divided among them, at the discretion of my executors at my decease.

Lastly I do hereby nominate and appoint my brother Daniel Rhoads and Solomon Rhoads and David Rhoads as executors of my last will and testament, hereby ratifying and confirming this and no other to be my last will and testament, hereby revoking all other wills by me made as witness and seal this 15th day of April in the year of our Lord 1812 and the presence of viz:

Henry Rhoads.
(Seal)

Henry Rhoads died on the 6th of March or May, 1814, aged seventy-five. His "last will and testament" was written April 15, 1812, witnessed by J.W. McConnell and Wm. Sumner."

It was recorded in 1813 and probated in August, 1814, as attested by C.F. Wing, Clerk.